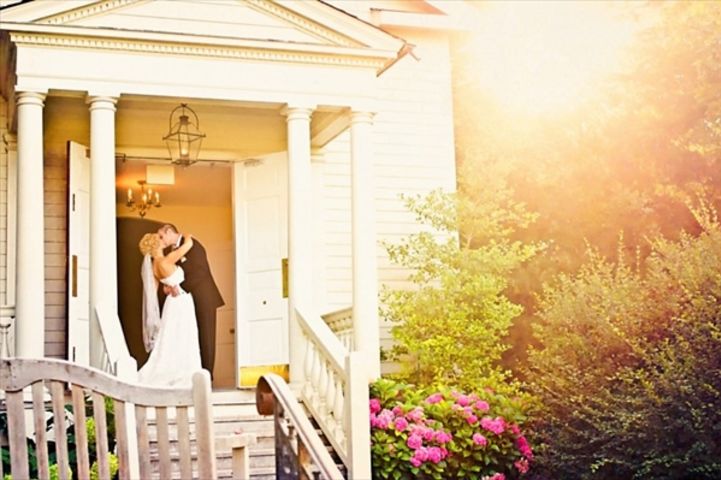 Take in the beauty and history of the restored interior of our all-faith's Chapel, St. Vincent's-in-the-Vineyard. You won't find many small wedding Chapels in Missouri as unique as this. It can accommodate 80 guests on the main level and 20 on the upper balcony. Our wedding chapel gives you a traditional wedding day feel while being surrounded by peaceful nature. The entrance offers breathtaking views, and a lower level private dressing and sitting room is available.
About The Chapel
There once stood an all-faiths Chapel named St. David's at the Thompson Episcopal Retreat Center in St. Louis. The retreat center was sold in 2003 and all of the buildings were set to be demolished. When Hank and Jackie, the owners of Chaumette, heard the news they knew they had to do something since they had a passion for renovating old homes to restore their beauty. They arranged with the Bishop of the Diocese to relocate the Chapel to the grounds of Chaumette.
Since it was a brick building built on a slab, it could not be moved. Hank and Jackie made the decision to have it dismantled – piece by piece – and reconstructed here at Chaumette as a clapboard building with a basement level. The Johnsons worked to ensure the chapel was rebuilt as accurately as possible. All of the same windows, doors, flooring, pews, altar, lectern, Wicks pipe organ and even the red carpets (which fit perfectly) were installed in the chapel's new location.
In October 2003 it was reconsecrated and named St. Vincent's-in-the-Vineyard as an all-faith Chapel by the Rt. Reverend Wayne Smith, Bishop of the Episcopal Diocese of Missouri. St. Vincent of is the patron Saint of wine, which the Johnsons felt was quite fitting for the Chapel. The starburst on the top of the cupola signifies the inclusion of all people of all faiths.
Interested in getting married in one of the most beautiful small wedding chapels in Missouri?
If you love the Chapel as much as we do, we would love to talk to you more about the details for a wedding ceremony. For more information about our all-faiths chapel, contact our Events Department at (573) 747-1000 or email us at events@chaumette.com.
This slideshow requires JavaScript.